"Smokin' Hot Wife" is a 2011 Sawyer Brown single. It is written by Mark Miller. It received an online preview on the band's official facebook page on June 14, 2011. It is the first official release from their Travelin' Band album.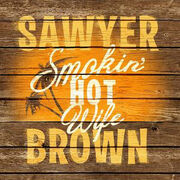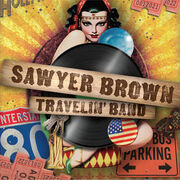 I walk around with a big fat grin
I can't believe how lucky I've been
Like Opie and Andy, the Mayberry life
With my kids and my dogs and my smokin' hot wife

I got a truck and some land
And I play in a band with my friends on a Saturday night
I thank God for the good life
I'm fightin' the good fight
From the porch in the swing by my smokin' hot wife

I ain't much to look at, so I don't know how
I ended up with the milk and the cow
We're off to Daytona, we're packed in tight
My kids and their friends and my smokin' hot wife

I got my toes in the sand, an ice tea in my hand
And I'm livin' out the fantasy life
I look out at the ocean and yell for more lotion
From my chair at the beach by my smokin' hot wife

She's so fine
She's all mine

I'm a fortunate man and I fold my hands
On my knees every night
I'm thankin' sweet Jesus 'cause when everyone see us they say
Holy Pete how did he get a smokin' hot wife?

He's got some kids and some dogs and a smokin' hot wife

He's got a porch and a swing and a smokin' hot wife

She's so fine
She's all mine
"Smokin' Hot Wife" appears on one Sawyer Brown album: