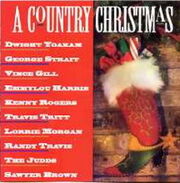 "Please Come Home for Christmas"
is a Christmas song written by
Charles Brown
and
Gene Redd
. It was originally released by Charles Brown in 1960. It has been notably recorded by the Eagles in 1978 and Bon Jovi in 1992, among dozens of other artists.
Sawyer Brown
's version appears on the 1990 Christmas compilation
Christmas for the '90s Vol. 2
,the 1994 Christmas compilation
A Country Christmas
and was used in the film
Bad Santa
.
Bells will be ringing this sad sad news
Oh what a Christmas to have the blues
My baby's gone I have no friends
To wish me greetings once again
Choirs will be singing Silent Night
Christmas carols by candlelight
Please come home for Christmas
Please come home for Christmas
If not for Christmas by New Years night
Friends and relations send salutations
Sure as the stars shine above
But this is Christmas yes Christmas my dear
The time of year to be with the ones you love
So won't you tell me you'll never more roam
Christmas and new Years will find you home
There'll be no more sorrow no grief and pain
And I'll be happy, happy once again
Oh there'll be no more sorrow, no grief and pain
And I'll be happy, Christmas once again
Ad blocker interference detected!
Wikia is a free-to-use site that makes money from advertising. We have a modified experience for viewers using ad blockers

Wikia is not accessible if you've made further modifications. Remove the custom ad blocker rule(s) and the page will load as expected.