"Old Photographs" is a song written by Kenneth Beal, Kix Brooks and Bill McClelland. It was recorded by Sawyer Brown for their 1987 album Somewhere in the Night. It was released as a single in 1988 and peaked at #27 on the US Billboard Country chart.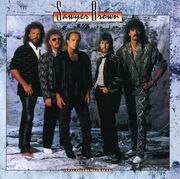 I've been lettin' all my friends
Take me mind off all the troubles
They've all been glad to help me out for a while
But your memory steps in and I'm turnin' back the pages
Lookin' through old photographs and tryin' to find your smile
Chorus
Old photographs bring back sweet memories
Lookin' at the way I held you then
Old phtotgraphs keep you here with me
'Til I find a way to get back in the picture again

Somethings never change as the years go on between us
Like all my love for you still feels the same
All those yesterdays that I wanted to remember
Are sittin' here beside me where these old pictures lay
Chorus
'Til I find a way to get back in the picture again
"Old Photographs" appears on one Sawyer Brown album:
Ad blocker interference detected!
Wikia is a free-to-use site that makes money from advertising. We have a modified experience for viewers using ad blockers

Wikia is not accessible if you've made further modifications. Remove the custom ad blocker rule(s) and the page will load as expected.