"New Set of Tires" is a song written by Jeffrey Steel and Bob Dipiero. It was released by Sawyer Brown on their 2011 album, Travelin' Band.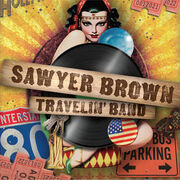 Come over here, honey, I gotta talk to you
She knows I'm a certified mechanic
If it's broke I can fix it in a minute Got boxes full of wrenches
Got a background buildin' engines
And my name on a dirty shirt

So I said "Where'd you get those new Pirellis?"
She said "What the heck are new Pirellis?
"And why you gettin' so defensive?
"I was just out with my girlfriends
"For a sale at the mall and a hairdo
"Thought I'd drop the car off for a tune-up
"So what?"

I said "Baby, I ain't callin' you a liar, honey
"But a girl just don't go get a new set of tires"

Unless she's leavin'
Unless she ain't comin' back
Unless she drove 'em over broken glass and run 'em all flat
Unless racin' Dale Jr. is her secret desire
A girl just don't go get a new set of tires

Now she knows she can tippy-toe right past me
In new clothes, shoes and shiny jewelery
With a box of chocolate candy
And a big bouquet of daisies
And I wouldn't even blink

But uh-uh, ain't no sneakin' around it
If it rolls, I know everything about it
I've been up and underneath it
I can eat and drink and sleep it
Baby, cars are my life
Now you might soap it and wash it in the drive, honey
But a girl just don't go get a new set of tires

Unless she's leavin'
Unless she ain't comin' back
Unless she drove 'em over broken glass and run 'em all flat
Unless racin' Dale Jr. is her secret desire
A girl just don't go get a new set of tires

She can justify the glitter-eyes,
Gold toe nail polish, Gucci sunglasses
And the bottle of Italian red wine
Unless she's got her eyes on another town and another guy
A girl just don't go get a new set of tires

Unless she's leavin'
Unless she ain't comin' back
Unless she drove 'em over broken glass and run 'em all flat
Unless racin' Dale Jr. is your secret desire
A girl just don't go get a new set
Unless she's leavin'
Unless she ain't comin' back
Unless she's prone to burnin' rubber at the drop of a hat
Unless racin' Dale Jr. is your secret desire
A girl just don't go get a new set of tires

Unless she's leavin'

Unless she's leavin'

Unless she's leavin'

"New Set of Tires" appears on one Sawyer Brown album: