"Lonely Girls" is a song written by Mark Miller and Randy L. Scruggs. It was included on Sawyer Brown's 1986 album Shakin'.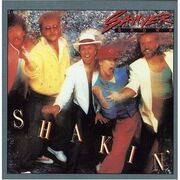 Alone in her room
Got on his favorite perfume
But she's goin' nowhere
She took a chance
And saved the last dance
Oh but he doesn't care
She's a lonely girl
She's a lonely girl
She calls on the phone
Seems he isn't home
So she watches tv
She's gettin' bored
With being ignored
Oh she's startin' to see
She's a lonely girl
She's a lonely girl
chorus
And lonely girls
Don't stay lonely forever
Given the time
Don't think she won't find something better
You're thinkin' now that you don't need her
But you'll find out if you leave her
A lonely girl
A lonely girl
Oh the telephone rings
It's the boy down the street
Says he just wants to talk
Wonders if they can meet
chorus
"Lonely Girls" appears on one Sawyer Brown album:
Ad blocker interference detected!
Wikia is a free-to-use site that makes money from advertising. We have a modified experience for viewers using ad blockers

Wikia is not accessible if you've made further modifications. Remove the custom ad blocker rule(s) and the page will load as expected.