"Heart Don't Fall Now" is a song written by Bill LaBounty, Beckie Foster and Carolyn Swilley. It was released as a single by Sawyer Brown from their album Shakin'. The song peaked at #14 on the US Billboard Country chart.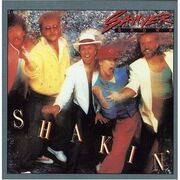 Here she comes again, but me and you
We're gonna close the door
We won't let her in, we're not gonna do it, like we've done before
Stay here with me, keep a steady beat
But not to loud, she might be listening
Chorus
Oh heart, don't fall now
If you do I might never bring you back around
Heart take it slow, don't let her know
Just how much we really need her now
Heart, don't fall now
She can break me down but she won't get through
If you'll be on your guard, when she reaches out
Oh, I'm counting on you, not to fall apart
Here comes that touch
We've been missing for such a long, long time
I feel you giving in
Chorus
You'll pull it off some how
This can be our finest hour
Oh, heart without you
I might not get through it
Don't know if I can do it
Repeat Chorus Three Times
"Heart Don't Fall Now" appears on two Sawyer Brown albums:
Music Video
Edit
The music video for "Heart Don't Fall Now" was directed by Martin Kahan. thumb|300px|right
Ad blocker interference detected!
Wikia is a free-to-use site that makes money from advertising. We have a modified experience for viewers using ad blockers

Wikia is not accessible if you've made further modifications. Remove the custom ad blocker rule(s) and the page will load as expected.