"Falling Apart at the Heart" is a song written by Gregg Hubbard and Mark Miller. It was released in 1988 by Sawyer Brown on their Wide Open album.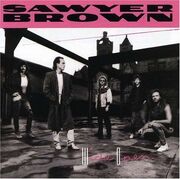 I'm back on my feet, got it straight in my mind
Don't ask how I'm doing, I'm doing just fine
Now I got it all under control
If I acted much higher
Then you'd see I'm down so low
chorus
I keep fallin', fallin apart at the heart
Keeps me wonderin' when does the gettin' over you start
It's hard to let go when a part of me keeps holdin' on
I'm back to the start, fallin' apart at the heart
Now I've told some lies, said I'd be ok
But don't you believe me, nothings really changed
I still wish that you were here
Tomorrow's so cloudy
Oh but yesterday's too clear
chorus
"Falling Apart at the Heart" appears on one Sawyer Brown album:
Ad blocker interference detected!
Wikia is a free-to-use site that makes money from advertising. We have a modified experience for viewers using ad blockers

Wikia is not accessible if you've made further modifications. Remove the custom ad blocker rule(s) and the page will load as expected.